September 6, 2022
Posted by:

Clever K Mlambo

Category:

News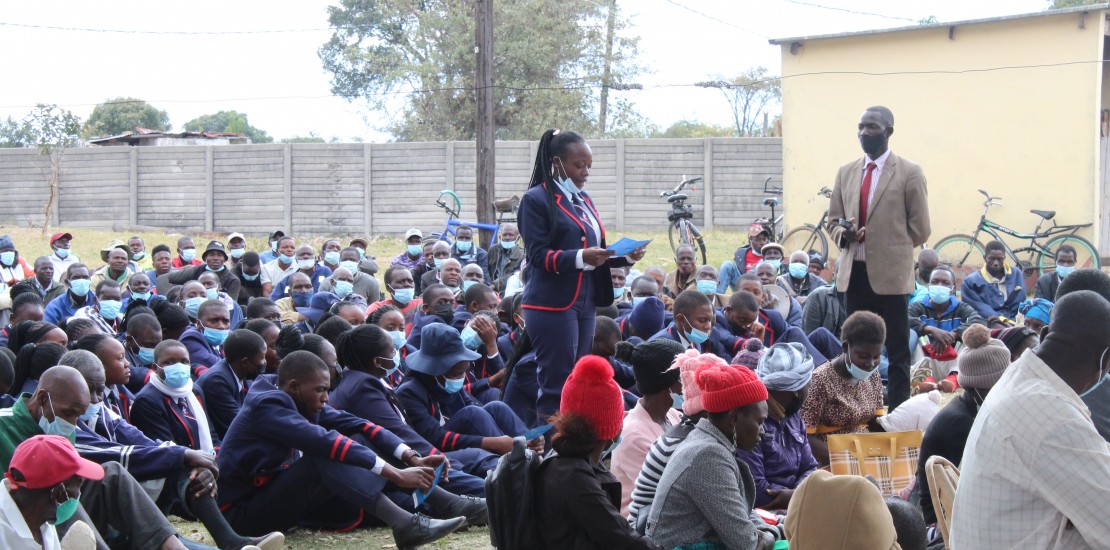 In efforts to include children in the law-making process, the Centre for Applied Legal Research (CALR) working in partnership with UNICEF Zimbabwe held nationwide sensitization sessions on the Children's Amendment Bill.
The proposed law affects children in many ways and it is key to have children's voices and opinions in a law that impacts them. The proposed law ensures and enhances child welfare and the protection of children.
CALR focused on sensitizing students (high school and primary school students) on the Children's Amendment Bill, the sensitization sessions paved way for Public Hearings on the Children's Amendment Bill by the Parliament of Zimbabwe (PoZ) Joint Portfolio Committees on Public Service, Labour and Social Welfare and Health and Child Care, the sensitization sessions ran from 11 to 15 July 2022 across all the 10 provinces of the country.
CALR sensitized the children on proposed changes and additions to the Children's Act, students learnt about the definition of a child as set out in the constitution as well as outlined in the Children's Amendment Bill. Discussions centred on registration of institutions housing children, new offenses protecting children like causing a child to participate in child sexual abuse material, child grooming, exposing children to brothels, duty to report child abuse on persons such as medical practitioners, teachers, legal practitioners, and ministers of religion, etc aroused mixed feelings by the children, some were for tough penalties whilst others wanted lenient sentences for the would-be perpetrators, especially with regards to causing a child to participate in child sexually abusive material.
CALR legal officers informed the children on what the law says and how the proposed Bill is seeking to further protect the children.
"Why fine them when they can just pay their way out yet a child's life has been destroyed," thundered a Bulu High Advanced level student in Plumtree. This view was supported by students from St. Columbus school in Bulawayo, fines were seen by the children as weak instruments to bring justice when their welfare and their rights are infringed.
Across different schools sensitized by CALR, students raised serious concerns about options for fines, fines fall short of real justice in addressing cases where perpetrators abuse children, the children claimed.
Fines were seen as not deterrent enough, and the children wanted more teeth in the law which heavily penalizes those who violate children's rights.
Stiffer penalties were called on by the children on perpetrators who traffic children, on perpetrators who sexually abuse children and expose children to pornographic material.
In some gatherings, children called for stiffer penalties of jailing ranging from 10, 15, 25 and 30 years, especially in cases to do with child abuse and trafficking.
Children across the country echoed the need to have a law that caters to enough health care for the children, access to education, access to identity documents, government to ensure safety nets for vulnerable children, heavy punishments for an offender, enough background checkups in adoption matters and enough policing of shelters that house vulnerable children or children in need of care.
Calls for banning corporal punishment were echoed by the children during the public hearings, despite that the Education Amendment Act outlaws corporal punishment, the students stuck to their guns on corporal punishment much to the heavy murmuring by most parents and guardians.
"… the type of beatings we receive are too heavy, are too much, we need nothing with corporal punishment…," said an Advanced Level student from Chemhanza High on the first day of the public consultations in Hwedza.
Mixed feelings were noticeable as parents and students had a tag of war on corporal punishment, despite that these issues have already been addressed by other legislations.
The students would from time to time echo their opinions though in some instances their concerns were already covered in other acts of parliament. The age of consenting to sex was one of the topical stories though it has already been addressed by a 24 May 2022 Constitutional Court judgment that ordered the lawmakers to align sexual consent with the Constitution of Zimbabwe. Despite all this, the students were keen to have their opinions known by the legislators.
" … No one should be denied sex because of age …",  submitted one student from  St. Columbus High School who hovered in a toned down but husky voice much to great applaud from his peers, his opinion being met by sharp stern eyes from most of the parents and guardians who had gathered at Stanley Hall in Makokoba, Bulawayo.
Mixed reactions were noted as parents and children had different views on the age of consent to sex, though there are already laws that cover these types of issues.
It was notable to notice significant submissions to the portfolio committees by the students, the sensitization sessions enabled the students to participate in the public hearings in an informed position, and they were abreast with the key provisions of the proposed law.
PoZ acknowledged CALR's role in mobilising a significant number of children to participate in the public hearings. The hearings were held in Mhondoro, Mvurwi, Silobela, Binga, Hwedza, Plumtree, Bulawayo, Harare, Murambinda, Buhera and Bikita.
CALR working with UNICEF Zimbabwe under the Spotlight Initiative is implementing a project that seeks to end violence against children by facilitating the alignment of laws to the constitution and legal reforms.