May 9, 2022
Posted by:

Anesu Michael Maposa

Category:

News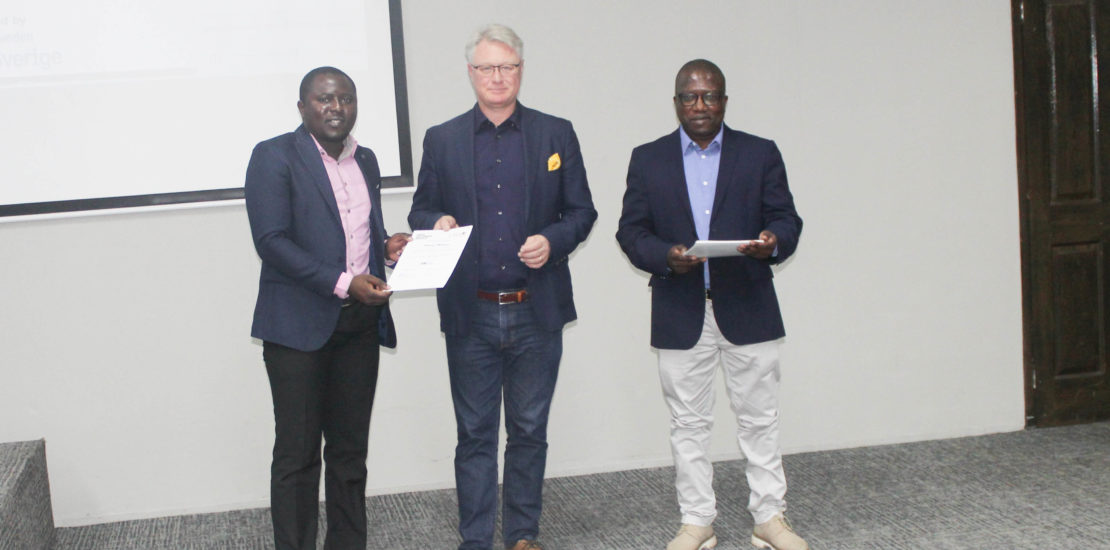 The Raoul Wallenberg Institute of Human Rights and Humanitarian Law (RWI) in partnership with the Centre for Applied Legal Research (CALR) awarded certificates to representatives from state and non-state actors that concluded a 4-phased training on human rights and the devolution process.  The awarding ceremony was held at Cresta Lodge Msasa on the 9th of May 2022.
Participants who were awarded the certificates include representatives from government ministries, constitutional commissions, the parliament of Zimbabwe, civil society organisations, resident associations and municipality representatives, etc.
Since 2016, the RWI working in partnership with CALR has provided professional training programmes for both state and non-state actors. The past themes in the PTPs include human rights of persons with disabilities, human rights and climate change, human rights of women, the youth and human rights, human rights and devolution processes and human rights and good governance. 
The group on human rights and devolution was happy to have gained additional knowledge which they hope to infuse in their various workstations to create enabling work environment based on best human rights practices which are appreciated regionally and internationally. 
Professional Human Rights Training for Parliament Staff 
The Raoul Wallenberg Institute of Human Rights and Humanitarian Law (RWI) in partnership with the Centre for Applied Legal Research (CALR) held a Professional Training Programme (PTP) on Constitutional & International Human Rights Law with staff from the Parliament of Zimbabwe (PoZ). 
The PTP was held in Harare, Zimbabwe from the 23rd to the 27th of May 2022. The training was designed to capacitate the staff of PoZ on how to infuse rights-based approaches in their technical work as well as in their programming.
Speaking on the first day of the training, RWI Harare Office Director, Mr Mikael Johansson highlighted how these programmes are tailor-made to improve and aid the practical application of human rights through professional training programmes and exchange programmes. 
The RWI has held such programmes starting way back in 1993 when the RWI supported the University of Zimbabwe. To date, the RWI works with academic institutions in Zimbabwe, civil society, independent commissions and government institutions in strengthening the human rights discourse and the practical application of human rights.
In his opening remarks, CALR Executive Director, Mr Nyasha Chishakwe highlighted how the PTPs are a platform for the participants to share and interact, with CALR & RWI bringing in experts to guide in the deliberations and interactions, in a quest to understand new and emerging aspects of constitutional and international human rights law in the context of work of the PoZ staff. 
The Deputy Clerk of Parliament of Zimbabwe, Ms H. Dingani together with Mr Mikael Johansson, presented the awards to PoZ staff. 
Since 2016, The RWI in partnership with CALR hold professional training programmes for members of the academia, government departments and ministries, independent commissions, civil society organizations, uniformed forces, the media, emerging leaders and residents' associations.