May 2, 2018
Posted by:

Anesu Michael Maposa

Category:

News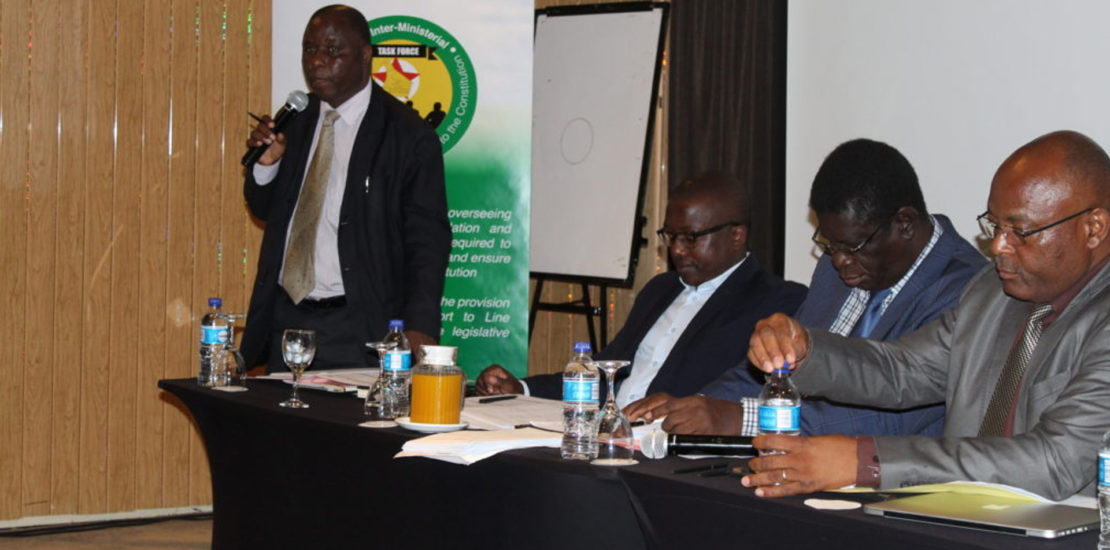 The Inter-Ministerial Taskforce on alignment of legislation to the Constitution (IMT) recently held a Bi-monthly meeting on the legislative alignment process. The IMT is the institutional platform established by the Ministry of Justice Legal and Parliamentary Affairs (MoJLPA) to facilitate the alignment of all legislation and administrative procedures to the Constitution.
The IMT Bi-Monthly meeting which was held on 11 May 2018 at Cresta Hotel was attended by representatives from line ministries that include MoJLPA, Ministry of Finance and Economic Planning, Ministry of Health and Child Care, Ministry of Home Affairs and Cultural Heritage (represented by the Zimbabwe Republic Police), Ministry of Lands, Agriculture and Rural Resettlement, Ministry of Youth, Sports, Arts and Recreation, Ministry of Mines and Mining Development, Ministry of Primary and Secondary Education, Ministry of Labour and Social Welfare, Ministry of Women Affairs, Gender and Community Development, Ministry of Tourism and Hospitality Industry, Ministry of Foreign Affairs and International Trade; Ministry of Industry, Commerce and Enterprise Development, and Ministry of Trade and International Development. The meeting was also attended by representatives from the Zimbabwe Human Rights Commission, Parliament of Zimbabwe and Civil Society Organizations.
The objective of this meeting was for line ministries to report to the IMT on the progress made and challenges encountered in aligning their respective legislation to the Constitution. The line ministries in attendance provided status updates on the stages their bills are currently undergoing.
Speaking on behalf of the IMT Chairperson, the Honourable Attorney General – Mr. James Mpariwa Mukaratirwa (Principal Director, in the Ministry of Justice Legal and Parliamentary Affairs' Legislative Drafting Division) urged ministries that had not yet set indicative timeframes for alignment of the legislation they administer to do so.  He further emphasised the need for line ministries that administer laws that are relevant for the creation of an enabling environment for the holding of free, fair and credible elections to be mindful of the need for these laws to be submitted to Parliament for the purposes of being passed into law ahead of the 2018 harmonised elections.  These laws include the Electoral Act [Ch 2:13], the Zimbabwe Media Commission Bill, the Access to Information and Protection of Privacy Act [Ch 10:27], the Broadcasting Services Act [Ch 12:06], the Citizenship of Zimbabwe Act [Ch 4:01], the Immigration Act [Ch 4:02] and the Public Order and Security Act [Ch 11:17].
CALR Executive Director, Mr. Nyasha Chishakwe explained to the participants that the project, Supporting the Legislative Alignment Process has now entered its second phase which is aimed at provision of technical support for the alignment of laws that are critical in creating an enabling environment for free, fair and credible elections.  The status updates from the line ministries will now be consolidated and used to update the IMT Control list Bill tracker, a tool developed to track progress in the legislative alignment process.